Black-chested Snake Eagle (Circaetus pectoralis)
Swartborsslangarend (A)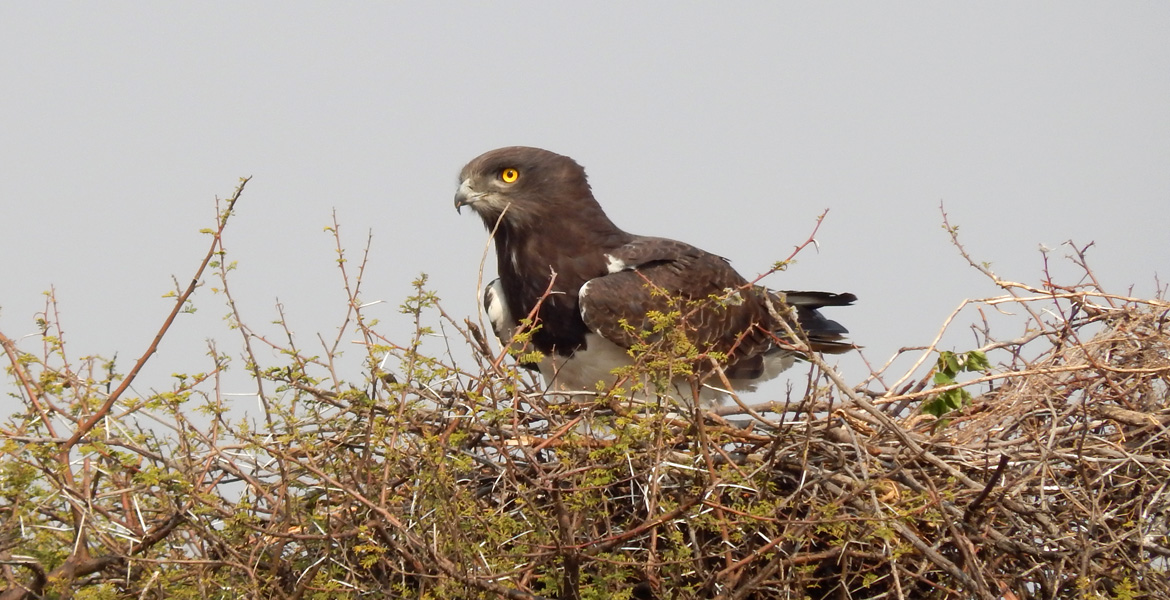 Click on any of the small pictures to open the full-size photo
Text by Elmarie Krige. Photographs by Elmarie & Garfield Krige
In 2012 we noticed for the first time a pair of Black-chested Snake Eagles who made their home on our Estate. Although many other indigenous bird species occur on our Estate, I feel this iconic bird that often grace our skies with its presence, deserves a page dedicated to it.
With time and more properties being developed on the Estate, there is always a chance that these wonderful birds may disappear from our Estate – seeking new breeding and hunting grounds. So, for the time being, let us enjoy their graceful presence, let us all be respectful of their existence and help protect this wonderful bird as best we can.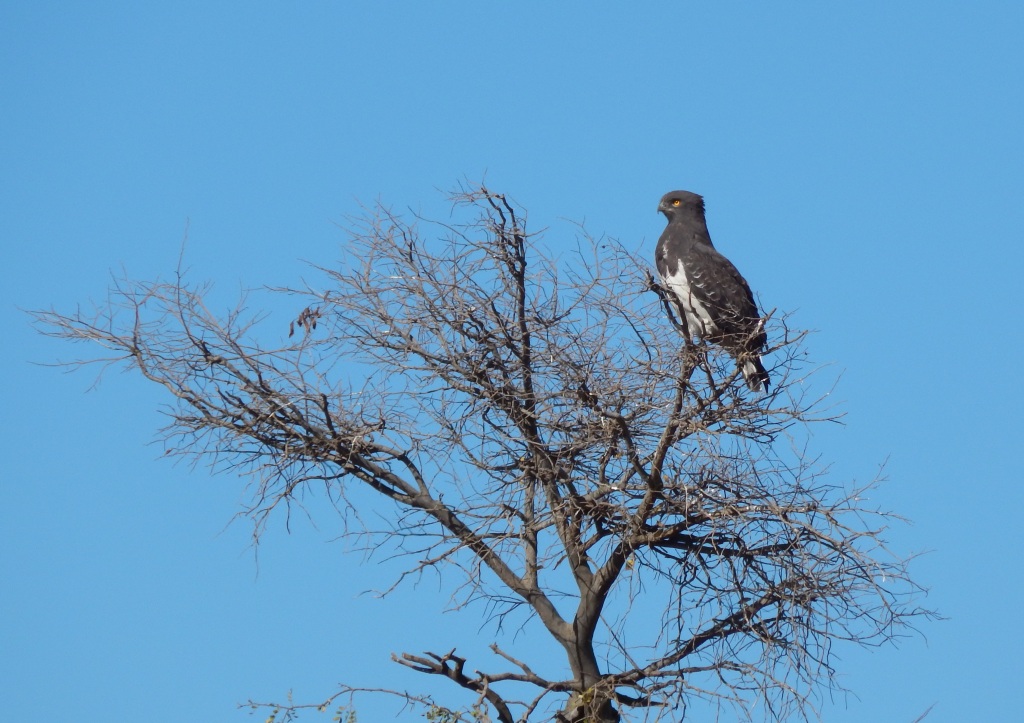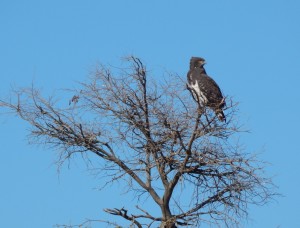 Often this eagle is being described as secretive and a bit of a loner and it is quiet for the most part, except for sometimes when it is near the nesting site or during breeding season, when its high-pitched calls may be heard. As far as being on the red data list of endangered species, sources are that it is of least concern for the time being, but it is also stressed that not enough ongoing studies are being done to verify its present status.
If one takes into consideration that only one egg per clutch is laid every breeding season; that not every chick survives (see Celtis letter dated August 2014 on the "Downloads" page) and that the ever increasing sprawl of urbanisation (thus decreasing their hunting and nesting grounds) is a fact, then their continued survival as being of "least concern", may not be a true reflection of its status in the long run.
Some facts: 
Average wingspan: 1.5 – 2.1 m
Adult height 63- 68 cm – the female is larger than the male
Average weight: 1.2 – 2.3 kg
Sexual maturity is reached after about 3-4 years
One white egg per clutch is laid and incubation is between 48 to maximum 52 days.
Although the hatching is mainly by the female, both parents look after the chick once it is born. The first 25 days of its life, the chick is cared for intensely by both parents, thereafter visits to the nest are more intermittently. The chick leaves the nest only after about 3 months of age when it is fully fledged, but can in rare cases stay around the area for up to 18 months.
The nest is fairly small in relation to the size of the bird and about 60-70 cm across and 20-25 cm deep. It is made of sticks and twigs and is lined with green leaves and usually placed 3.5-7.5 meters above the ground, often on top of acacia trees or members of the plant genus Euphorbia.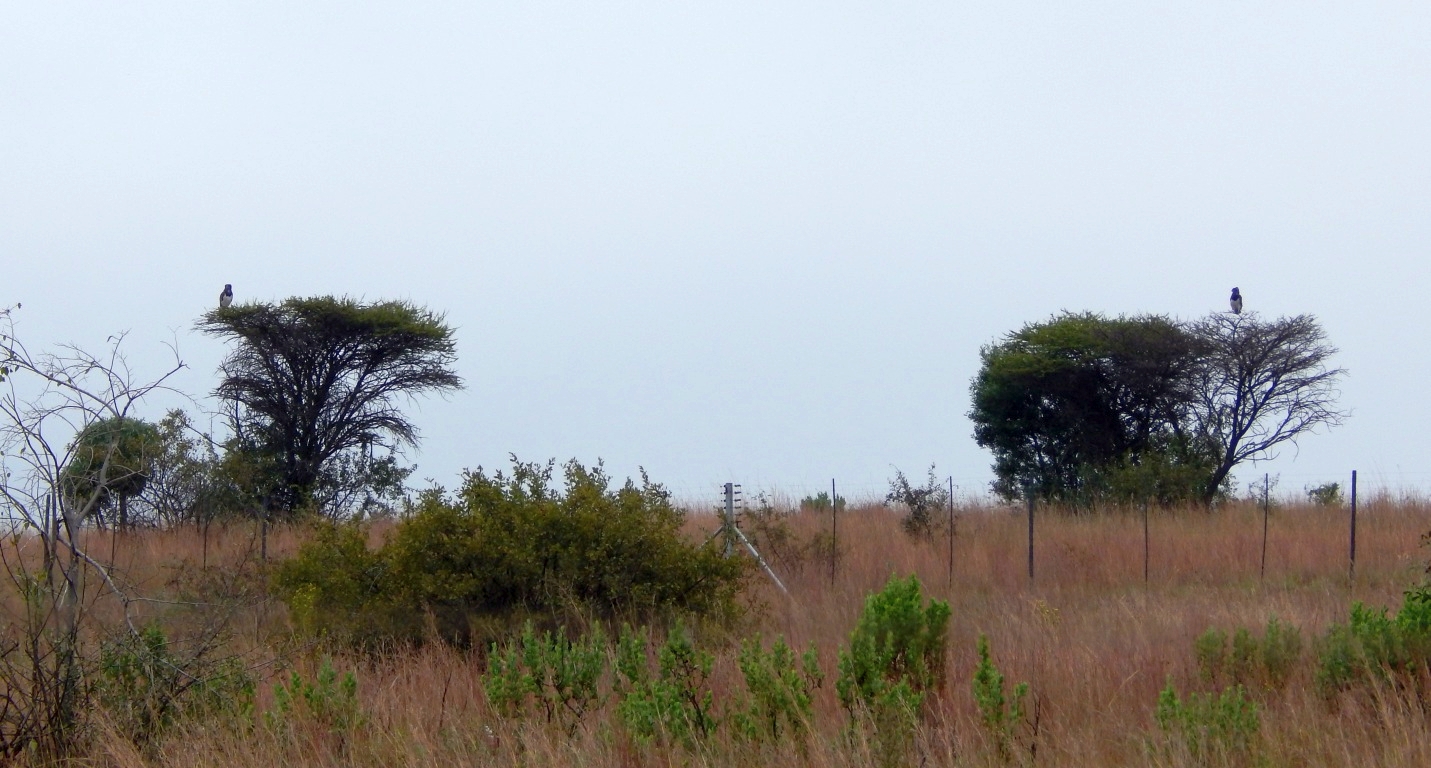 Description:
The Black-chested Snake-Eagle adult has black upper parts, with a slight "scaled" effect, due to feathers' edges being pale. The under parts of the birds are white, except for the chin, throat and chest, which are black. Under their wings and under the tails feathers are white, with narrow black bars across secondaries and tail feathers. The head is black and their eyes are bright yellow. The hooked bill is blackish with grey cere (the bare wax-like patch at the base of the upper part of a bird's beak). Their long, bare, legs and feet are grey. Both sexes are similar in appearance.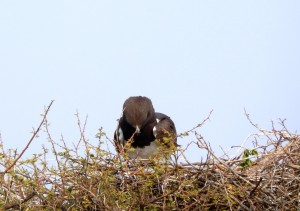 The chick is of a whitish colour when hatched. The juvenile has brown upper parts with paler feathers' edges. The under parts are of a paler buffy brown. The head is a rufous brown, slightly streaked with darker brown. The sub adult is almost similar to the adult, but more of a sooty-brown above. The under parts are whites and often with large brown spots on the upper chest.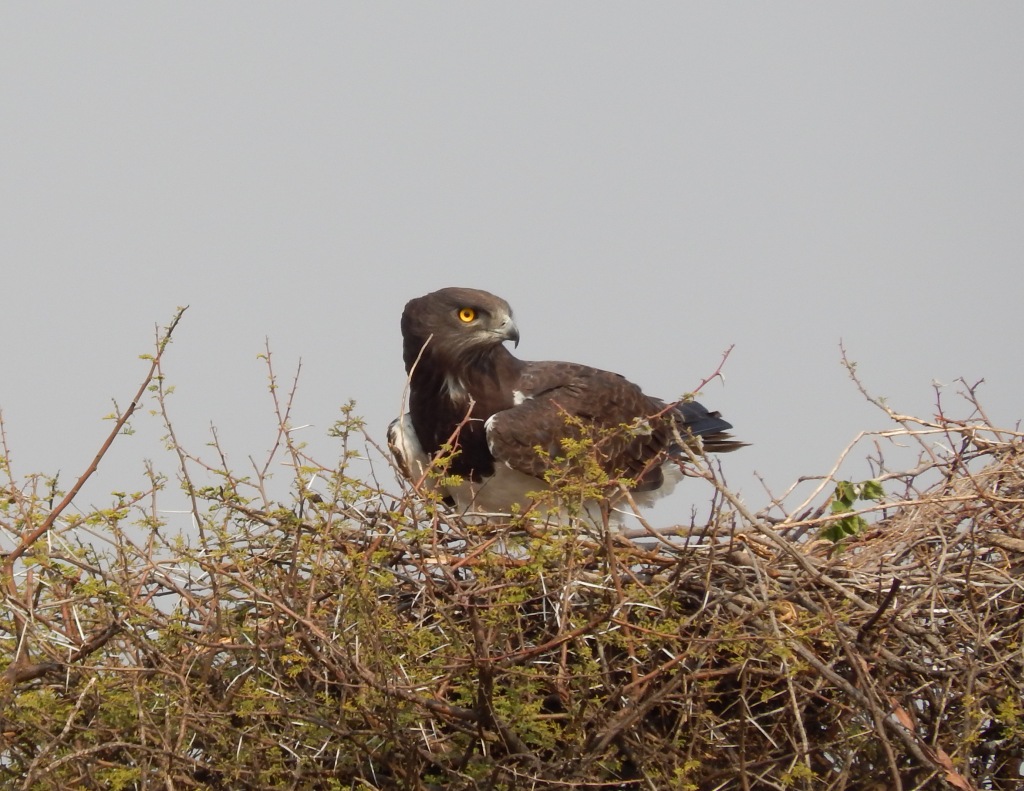 Taxonomy: 
Circaetus pectoralis was previously considered to be a subspecies of Circaetus gallicus (Short-Toed Snake Eagle). However, it is now thought to form a super species with C. gallicus and Circaetus beaudouini (Beaudouin's Snake Eagle).
Based on nucleotide sequences Circaetus pectoralis, Circaetus gallicus, and Terathopius ecaudatus (Bateleur) have been found to form a monophyletic clade. This, in simpler terms means that they have evolved from a single stock/ancestral line.
Hunting: 
These eagles are highly specialized in hunting snakes and their tarsi (the bones forming part of the foot to which the leg is articulated) are protected from snakebites and/or poison by the thick imbricated scales. Black chested snake eagles hunt from the wing and can soar half a kilometre above the ground looking for reptilian movement. It is the only eagle to regularly hover.
When prey is spotted, it will descend in stages- using its wings almost parachute-like, before taking the final plunge. It will swoop down on a snake, grabbing it in its talons and crush the body several times. However, there have been cases reported where both the prey and the bird have been found dead. This is the result of the eagle having missed, the snake fighting back entwining its body around the eagle thus resulting in the death of both the eagle as well as its prey – the snake having taken the ultimate revenge.
Larger snakes will be eaten on the ground, while they will fly off with smaller snakes, devouring it in the air. Their prey mostly includes snakes (even venomous ones!) but also sometimes chameleon, lizards and other small animals and birds. This eagle tends to take smaller-sized snakes than the brown snake eagle whose talons are bigger and has a bigger beak. The snake is always swallowed head first, and the tail, which is the safest bit, will be fed to the chick.
Although this is a large bird of prey and can pursue its prey at speed, it is not swift or agile and is often harassed and chased off by smaller birds if trespassing in the smaller birds' territory. Coming back from voting this year, we stopped for a while, watching the male grooming itself on a tree near the road. We were joined by Lee-Ann Saunders (No 160 Malmani Rd) on her way to town and to our amazement, we watched a group of much smaller birds starting to fly noisily around this "enemy" – irritating it to such an extend that it eventually flew off – the little ones in hot pursuit!
Observations have been made of a male and female feeding each other a snake in breathtaking mid-air acrobatic displays during courtship!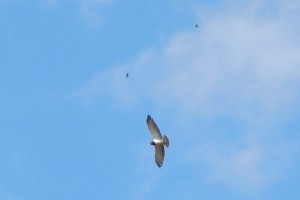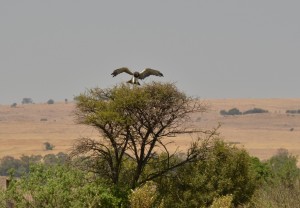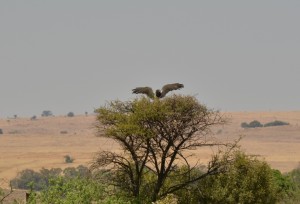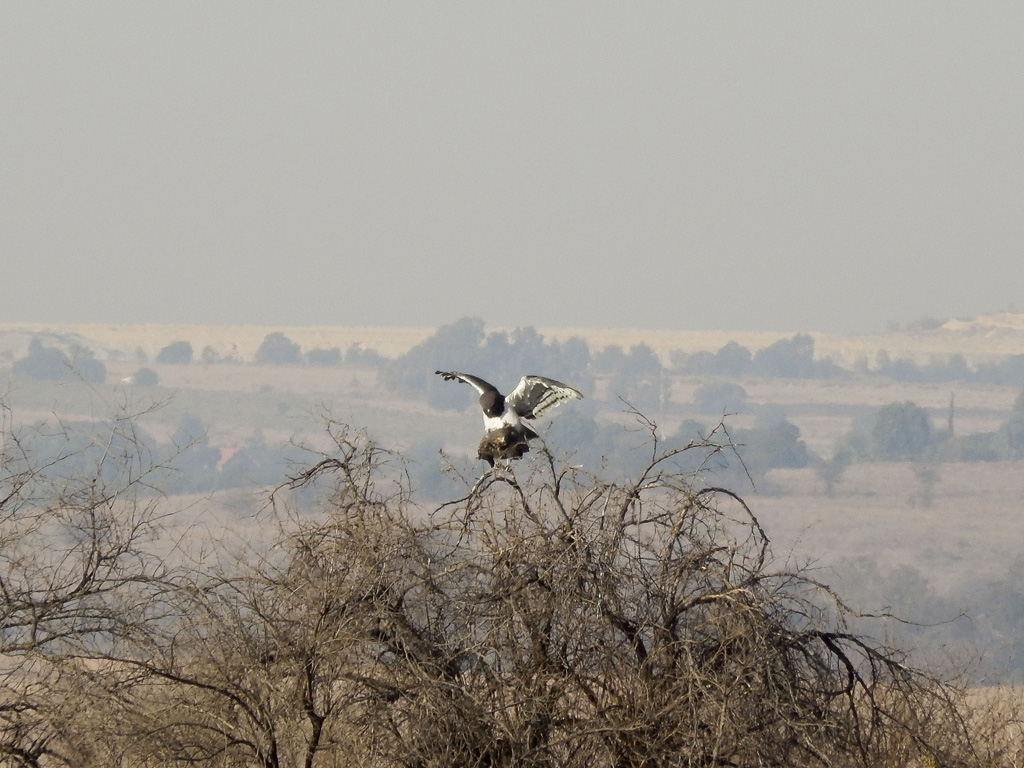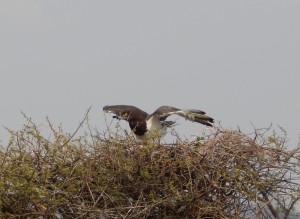 Note: I have always thought of the female as Henrietta – don't ask me why; she just looked like she might be a Henrietta! Then, when the 2014 chick hatched, I decided it must be called Little Wing. Little Wing is Native-American-like and seemed apt, as it is not gender specific and I thought a fine name for the youngster! The name is actually from the song Little Wing, one of my favourite songs written by Jimi Hendrix! Out of curiosity I Googled the meaning of the name Henrietta and it turned out the meaning is "ruler of the house"! Well, that surely fits! I thought of a good name for the male and when I Googled names in Tswana, I stumbled upon the name Kgosi, which means "chief" in Tswana, so Kgosi it is! I think it suits him very well as he is, after all the chief of this area! There you go – just a little bit of fun, but I think the names are well-chosen!
References and acknowledgements:
Birds of Africa, south of the Sahara – Ian Sinclair and Peter Ryan; BirdLife International; Birding Krugerpark; Planetofbirds.org; Wikepedia website; IUCN Red List website.