The following snakes have been photographed and identified on our Estate. As we find more species, these will be added.
Text by Elmarie Krige and all photographs by Garfield Krige
Click on any of the small pictures to open the full-size photo
Common Night Adder (Causus rhombeatus)
Gewone Nagadder (A)
Venomous
Length: 30-60 cm with a maximum of about 1 m. Larger sizes in KZN.
Colour: The back is different shades of light grey, olive-brown or even light pinkish-brown. Large, diamond-shaped markings on the back and tail, often encircled in white. The head has a distinct brown- or black-coloured v-shaped marking stretching to between the eyes. The underside is pearl-white to yellow, sometimes grey with or without dark markings.
Habitat: Prefers damp areas. Will hide under tree-trunks, building rubble etc and often found near dams, rivers and houses.
Habits: Slow-moving and will sail away whenever it is threatened. When cornered it will blow up and hiss aggressively and strike at the same time. It hunts mainly at night. It is often confuses with the non-venomous Egg-eater, however the Night Adder's body is much shorter, thicker and the head flat with distinctly visible v-shaped marking. The common Egg-eater has 2-3 fragmented v-shaped markings behind the head.
Food: The Night Adder has bad eyesight and relies mainly on smell to find its prey. Feeds almost entirely on the gutteral toad (skurwepadda) and will be near houses where the frog is hunting for insects in order to catch it. It is well known that the young feeds on tadpoles.
Enemies: Hunted by a variety of snakes, birds-of-prey and leguans.
Breeding habits: Oviparous and lays 7-26 eggs 2-3 times per year. The eggs stick together in a tight bundle and the young is between 13-16cm in length.
Danger to human-race: Venomous and a bite results in swelling and pain. In some cases a bite may result in extreme discomfort. It is always better to seek medical help if bitten by a night adder, especially in the case of children. There is no antidote.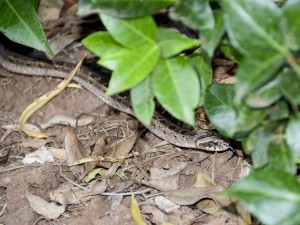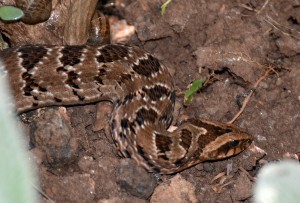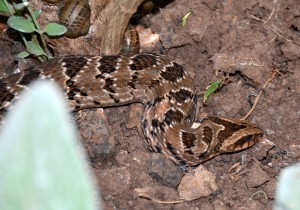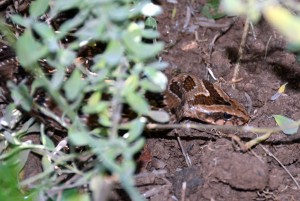 Rinkhals (Hemachatus haemachatus)
Rinkhals (A)
Very Venomous
Length: Adults reach 1 m on average however can reach lengths over 1,5m.
Colour: Varies, but the back and underside normally olive-coloured, dark brown to black with 1 or 2 (sometimes 3) white bands on the throat which is distinctly visible when the head is reared. In KZN they tend to have cream-coloured to yellow or orange-yellow bands over the back.
Habitat: Grasslands, damp savanna areas and often found (as we well know!) around smallholdings in Gauteng.
Habits: Commonly found all over in compost heaps, near stables, dams and rockeries. Can regulate its body temperature very well and can even in winter keep a body temperature of more than 30 º C. Hunts mainly during daytime and likes baking in the sun. In summer it may hunt at night. Usually disappears quickly when threatened but when cornered can lift up to half its bodily length with its head in the hooded position, showing clearly the white bands on its throat. It is known to be a climber when threatened. Can only spit in upright, hooded position and can spit 2-3 m away. When threatened by a human it will often "play dead", its tongue hanging out and when picked up will hang limply, however it can bite suddenly from this position. Often confused with the Mole Snake and farmers often confuse it with the Mozambique Spitting Cobra or the Snouted Cobra.
Food: Loves the gutteral toad, but also feeds on rodents, other snakes, birds and their eggs as well as lizards.
Enemies: Other snakes and birds-of-prey, red meerkat (our own yellow mongoose or Cynictis penicillata) and bullfrog (Pyxicephalus adspersus) will feed on the young. Their biggest enemy seem to be urbanisation.
Breeding habits: The rinkhals is not a true cobra. Viviparous and give birth in late summer between 20-30 young (even up to 63!). The young varies between 16-22cm in length.
Danger to the human-race: Very venomous, however not many fatalities have been recorded. In most cases the snake will move away rather than attack outrightly.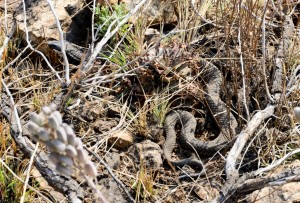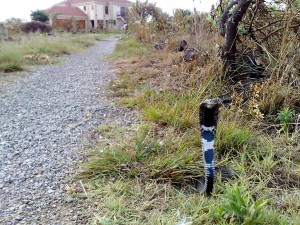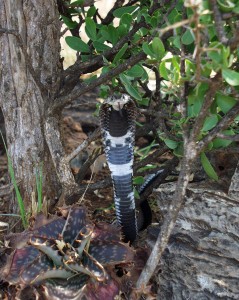 Red-lipped Snake (Crotaphopeltis hotamboeia)
Rooilipslang (A)
Mildly Venomous
Length: Adults reach an average length of 45-70cm but cases of 1m in length is known.
Colour: The backside is olive or grey with white specks, sometimes, especially in the young forming bands. Head darker than body and upper lip is red, white, orange yellow or black. The shiny back changing from almost purple-black to black is more distinct than the lip-colour. The belly is white to a pearly-cream colour. The head of the just hatched young is a distinct black.
Habitat: Grassveld, vlei areas, lower woodlands and damp savanna.
Habits: Because of its nocturnal habits it is often confused with, and incorrectly called a Night Adder even though there is no resemblance! It is a common snake, often found in gardens, in building rubble, rockeries and compost heaps. Prefers damp places and mainly hunt the gutteral toad. When threatened it will lift its head, hiss and with a wide-open mouth attempt to bite. It bites easily. This specie, together with the Brown House Snake is the most common garden snake in South Africa.
Food: Hunts for amphibians, and sometimes lizards.
Enemies: Other snakes and spiders of the genus Latrodectus.
Breeding habits: Oviparous and lays between 6-19 eggs in early summer. The young vary in size between 8-18cm in length.
Danger to the human-race: None. Venom has no known affect on human beings.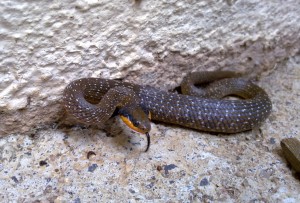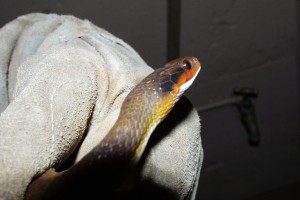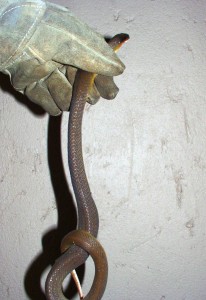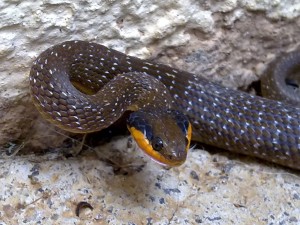 Brown House Snake (Boaedon capensis, previously Lamprophis capensis and L. fuliginosus)
Bruinhuisslang (A)
Non-Venomous
Length: Adults reach a length of between 60-90cm but in KZN the reach a length of 1,5m.
Colour: The backside is light brown or reddish-brown (often with reddish markings on the front half). Older snakes tend to be a dark olive to black in colour. Two, distinct light-coloured stripes on both sides of the head, one leading from the snout over the top half of the eye, often stretching over first third of the body, whilst the other stripe stretches from under the eye to the corner of its mouth. This distinguishes it from all other snakes in South Africa. The belly-side is yellowish to pearly-white. Young may have feint spots on the backside.
Habitat: Very common all over South Africa and often found in houses thus earning it its common name.
Habits: Hunts mainly at night and prefers rodents. Because of its nocturnal habit it is not often seen but occurs very commonly all over SA. When hunting it will catch rodents with its sharp teeth and suffocate it. It has the capacity of wiping out an entire rodent family in one go! It bites easily when threatened.
Food: Mainly rodents as well as bats and other birds, sometimes lizards or skinks, occasionally frogs.
Enemies: Other snakes, leguans, spiders of the genus Latrodectus. Owls prey on them, as well as other birds-of-prey. It is often killed by humans when found in the garden.
Breeding habits: Oviparous and lays between 8-18 eggs in summer. The young varies in size of between 19-26cm in length.
Danger to the human-race: None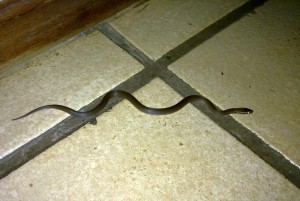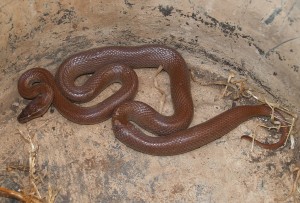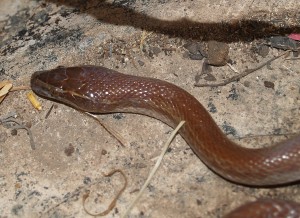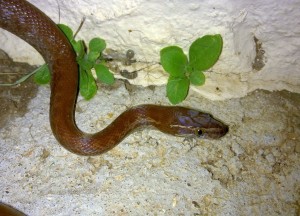 Mole Snake  (Pseudaspis cana)
Molslang (A)
Non-Venomous
Length: Adults average between 1 and 1,4 m in length but, especially in the Southwestern Cape, can reach lengths of over 2m.
Colour: Adults vary in colour from light grey, light brown, dark brown, brick red, to black. The young looks very different whereby the back is light reddish-brown to greyish-brown with darker zigzag markings, with light spots and markings. Underside yellowish, sometimes with darker markings.
Habitat: Various, including mountainous areas and even desert areas. Very common in grassveld or sandy areas with shrub.
Habits: Large, strong, constrictor with pointy snout and a small head, which is ideal for its digging habit. Spends most of its time underground hunting for food like moles and other rodents. Prey is grabbed by its head and suffocated. Adult males will fight during breeding season. They will bite each other, causing serious wounds, often leaving permanent scars. Although it is non-venomous it is very aggressive when confronted and will hiss, throwing its body (its mouth wide open) forward. This useful snake is unfortunately often confused with cobras or mambas and killed on the spot.
Food: Hunts for rats, moles and other rodents as well as birds and their eggs (swallowed whole). The young live mainly on lizards.
Enemies: Snakes and birds-of-prey and the human race. Often run over by cars whilst baking in the sun on a tarred road.
Breeding habits: Viviparous. Birth is given in late summer to between 25 and 50 (even up to 95) offspring. The young varies in length of between 20-31cm.
Danger to the human-race: Non-venomous but adults can give a very painful bite.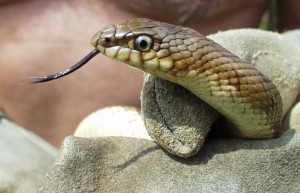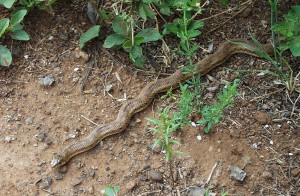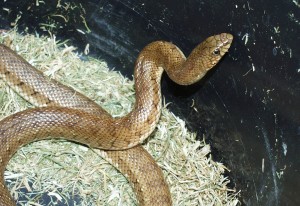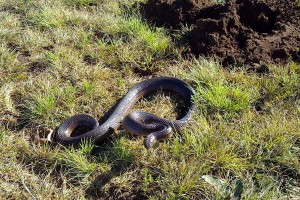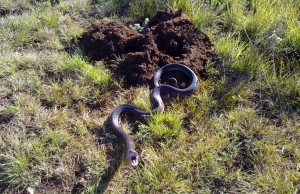 Common Wolf Snake (Lycophidion capense)
Wolfslang (A)
Non-Venomous
Length: Adults reach a length of between 30 and 40cm but can reach a size of 64cm. Females are much longer than males.
Colour: The backside is light to dark brown, purplish brown to black, often with white ridges around the scales giving it a speckled appearance. The belly is usually white, sometimes with darker markings and rarely a darker band down its middle.
Habitat: Grassveld, damp savanna, lower woodland areas and Karoo shrub.
Habits: Slow-moving constrictor that will rarely try to bite. Active during the night when hunting for lizards and skinks. Prefers damp areas and are often found under rocks, tree-trunks, piles of decking grass, rubbish dumps or abandoned termite heaps. It has long inwardly curving teeth on the top and lower jaw thereby giving it its common name. These teeth give them the ability to hold onto slippery prey. It will flatten its whole body when threatened.
Food: Mainly lizards and skinks as well as snakes.
Enemies: Other snakes.
Breeding Habits: Oviparous and lays between 3-9 eggs in early summer. Size of the young varies between 12-19,6cm in length.
Danger to the human race: None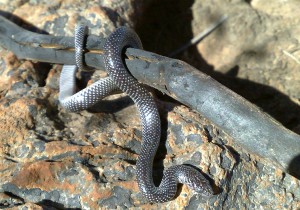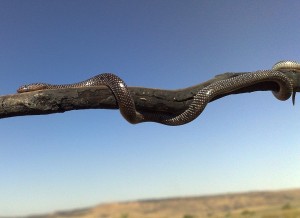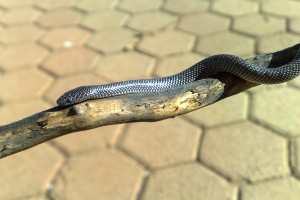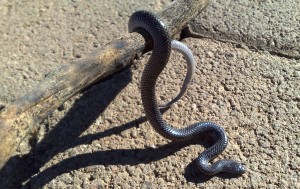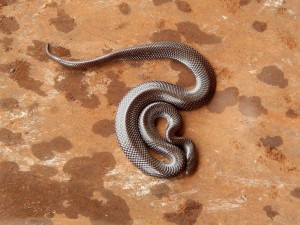 Common Egg-eater snake (Dasypeltis scabra)
Gewone Eiervreter (A)
Non-Venomous
Length: Average 45-75cm, maximum 1,16m in size.
Colour: The back is light brown to grey-brown with almost square markings and dark bands along its sides. A v-shaped marking on the neck, preceded by two similarly shaped but smaller markings on its head. The inside of its mouth is black. The belly is white, sometimes with darker markings.
Habitat: Commonly found all over South Africa with the exception of desert areas and very leafy woodland areas.
Habits: Most commonly found in drier thorny bushveld and grassveld. It is nocturnal and hides during most of the day under rocks or loose bark. It also likes abandoned termite heaps and especially in winter where it will hibernate. When bothered it will curl up and recoil whilst the scales on its sides will make a hissing sound similar to some adders. It will attack viciously with an open mouth, clearly showing the black insides. As its diet mainly consists of eggs, the teeth, serving no purpose, are very reduced in size.
Food: Birds eggs. An egg is taken in the almost toothless mouth and swallowed to about the neck where it will be cracked by a series of bone-like protrusions, which is part of its spine. With the help of muscle contractions the egg is cracked and the contents are swallowed. The flattened eggshell (held together by an inner membrane) will be regurgitated in a neat, boat-shaped form!
Enemies: Birds-of-prey and other snakes.
Breeding habits: Oviparous and between 6-25 eggs are laid in summer. The young vary in size of between 21-26 cm in length.
Danger to human race: None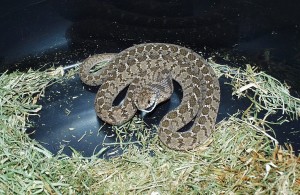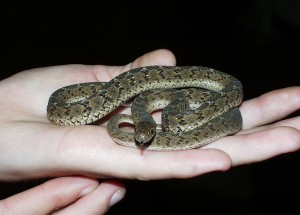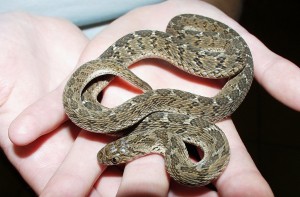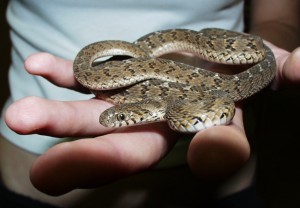 Bibron's Blind Snake (Afrotyphlops bibronii)
Bibron se blindeslang
Non-Venomous
Length: Adults on average reaching 30-38cm, with a maximum of 48,4 cm in length.
Colour: The back is plain but shiny dark brown to olive-brown with yellow-brown to light brown or pinkish belly. The younger are lighter in colour than the adults.
Habitat: Mainly coastal woodlands but also damp savanna and grassland areas.
Habits: Digging in habit and because of its underground existence it is seldom seen on the surface, except after heavy rains.
Food: Invertebrates including ant- ant termite larvae.
Enemies: Other snakes.
Breeding habits: Oviparous, laying between 2-14 eggs with very thin shells, which hatches within 5-6 days. The young average between 10 and 12,9 cm in length.
Danger to the human-race: None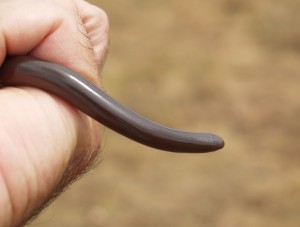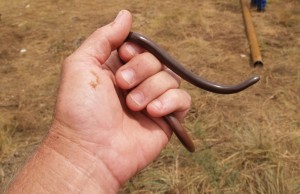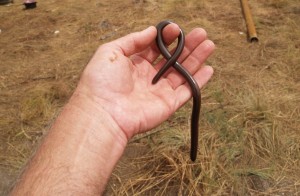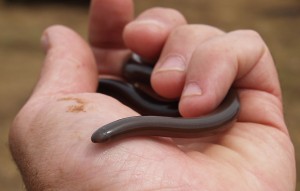 Puff Adder (Bitis arietans)
Pofadder (A)
Very Venomous
Length: Average length reached is 90cm in SA but can reach a length of 1,4m. (in Kenya examples of more than 1,8m is recorded).
Colour: The back changes from bright yellow, to lighter yellow and yellow-brown, orange-brown, light brown to grey with distinct chevron-like darker marking son the back and darker stripes or bands over the tail section. A dark marking over the crown of the head is separated by a lighter stripe between the eyes and a marking above its snout. There are two darker bands on the side of its head, one underneath and one behind the eye. The underside is yellow-white to grey with black markings. In the drier west they are lighter in colour and in the drier northeast it is darker n colour. Just before casting its skin it is dull in colour and just after it is brighter in colour.
Habitat: Commonly found over most of South Africa except on mountaintops, deep in the desert and dense woodlands.
Habits: Slow-moving and bad-tempered that will hiss and blow when disturbed. A thickset snake, with a thin neck and triangular-shaped head. It has small eyes with a vertical pupil, rounded snout and large, upward-showing nostrils.  It is usually found on the ground but sometimes found on small shrubs, baking in the sun. Mainly active during the night, but during the rainy season, it is sometimes found during the day, basking in the sun. It has excellent camouflage and often human beings will step on or next to it and get bitten. Though lethargic it bites very quickly and often retracts the head and body in a s-shape before shooting forwards to bite. It usually moves ahead in a straight line in a caterpillar-like movement, but when disturbed can sail in the usual snake-like way. Like most other snakes it can swim very well.
Food: It ambushes prey by lying quietly for hours on end. Prey consists of rodents, hares, ground birds, gutteral toads and sometimes other snakes. Larger prey will be bitten and then left to die. It will follow the prey with a flickering tongue. Prey is swallowed headfirst.
Enemies: Warthogs, birds-of-prey and human beings.
Breeding habits: Viviparous and birth is given late summer to between 20-40 offspring. However there is written record of the birth of 80 offspring! The young (between 15-20cm in length) is born in a type of membrane sack from which they break free soon after birth. Males will sometimes go in combat during breeding season. The female gives off a pheromone which attracts the male and more than one male can follow a female.
Danger to the human race: Because of its camouflage, this moody snake with long fangs (up to 18mm) and a strong venom is often seen as the most dangerous snake in Africa. The Puff Adder is responsible for most snake bites to human beings in Southern Africa.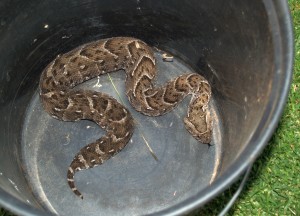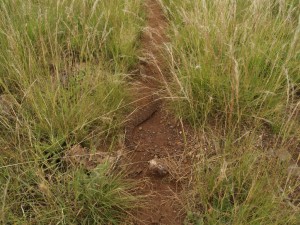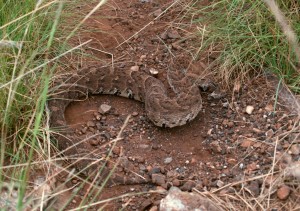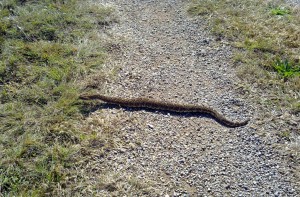 All photos by Garfield Krige, taken on his own plot (129), except for the ones of the Bibron's Blind Snake, which were taken at Plot 136
Emergency Telephone Numbers:
The following persons are located in our general area:
Johan Marais: 082 494 2039 (Author of "A complete Guide to the snakes of Southern Africa")
Tiaan Steynberg: 082 633 8636
Herewith a link to an app, which is updated monthly: http://bit.ly/snakebiteapp
References and Acknowledgements:
Marais, Johan (2004) 'A complete guide to the snakes of Southern Africa'. Struik Publishers
Butchart, Duncan (1995) 'Wild about Johannesburg'. Southern Book Publishers